Knife Introduces : Alto Aria
Posted
Words and interview by Jonathan Holst Bruus
Two years in the making and released two weeks ago on Copenhagen imprint Rhizome, Danish composer Maria Leth Schütze debuts under the Alto Aria-moniker with her first full-length, Tides.
The album is an electro-acoustic affair centered around the concept of tidal waves and the constant change that takes place inside us and around us. Manipulated voices, field recordings, metallic bird screams, and arrhythmic heartbeats empower a restless feeling of change and movement. The music is monumental, dramatic, and huge, but a sense of tranquillity and fragility is present throughout the record. Listening to the album it's almost like being trapped on a raft in the middle of the sea while being under the thread from the ruthlessness of nature. The storm is brewing and suddenly you find yourself surrounded by harsh weather of wind and rain – then the hours pass, the storm subsides, you're safe and have entered a soothing state of mind.
I caught up with Maria on a cloudy spring afternoon to hear a little bit more about the album – did she picture a fight against nature when she created the tracks? Or am I just overanalyzing as usual? It turned out that my heroic picture of myself fighting against a big wave in the middle of the ocean was a bit too much, but some kind of battle is actually present on the record, Maria reveals over Skype:
"I never thought of the album as me being engaged in some kind of fight against nature or something like that. If it's any kind of fight then it's probably a fight against myself. Letting go, accepting who you are and how you change".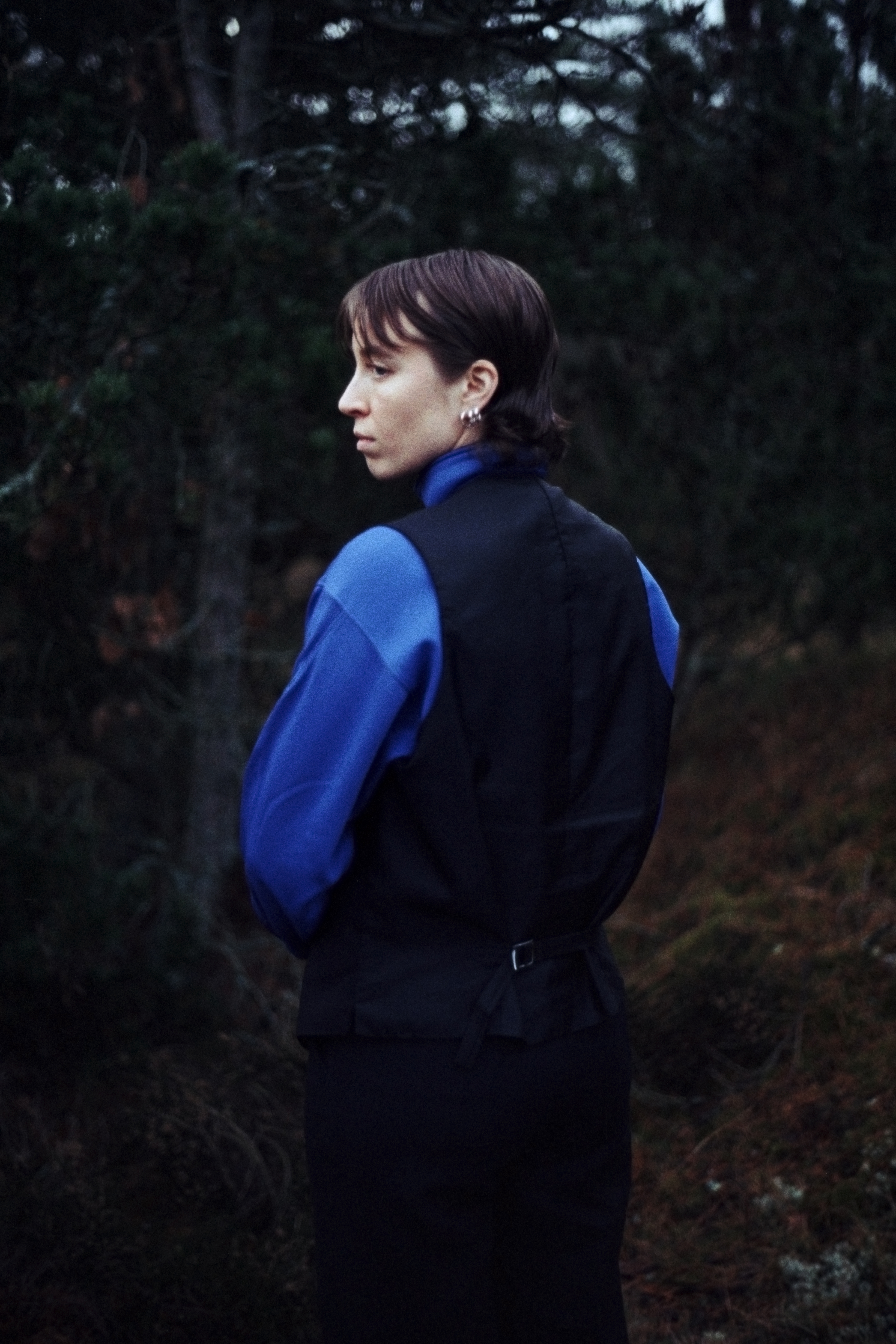 If nature is present musically, then change and acceptance shines through lyrically. Maria reveals that all of the titles are connected and provides a framework for a larger narrative that most likely will continue on future releases. "It's a deliberate thing. It's part of a bigger framework, which is expressed in the titles. Breaking Apart To Become Fluid, for example."
I take a sip of my tasty liquorice tea and wonder if the record is, in fact, a coming-of-age album? "I haven't thought about that", Maria explains. "Maybe it is... Nah, no, I don't think I see it that way. For me, change is something I continue and constantly undergo throughout my life."



We discuss the album a bit more, but unfortunately my screen freezes and I have to restart my laptop. After a few minutes we reconnect on Skype and I ask about her fascination with tides, where it originates,​ and how it should be understood in connection with the album.
"I used to spend every summer in my parents' summerhouse, which is located close to the North Sea in Jutland. I've always been amazed by the coastline and how it undergoes change both within a day and throughout the years. The tide is either slowly moving in or moving out. I visited the place a few weeks ago and I found it really interesting that the coastline, which is featured on the album cover, has changed and now evolved into something completely different".
The artwork alongside the booklet included with the album shows multiple photographs from the same coastline, and the theme may at first glance seem like a worn-out cliché but it is actually that particular cliché Maria is attracted to.
"I have been very inspired by artists who have also dealt with tides. For example, Kaitlyn Aurelia Smith – her album is also called tides. It definitely has been used many times before, but I think it's interesting and kind of beautiful how people give their own take on the same things," she says.
Going further into this fascination, Maria highlights an exhibition by the French artist, Christian Boltanski, which she saw last spring in Japan while traveling around the islands of Naoshima, Teshima, and Inujima.
"I went to an exhibition called Les Archives du Cæur by Christian Boltanski. Les Archives du Cæur translates into "the Heart Archive" and at the exhibition, it was possible to record your heartbeat and hear recorded heartbeats of former visitors. I recorded mine and I think it's a fascinating thought that when you record your heartbeat at the exhibition it is perpetuated, but at the same time, it gets lost in a sea of heartbeats. You become part of a bigger whole. The heartbeat you can hear on the track "Tide II" comes from that recording."
And heartbeats aren't the only thing present on the album when it comes to field recordings. Almost all of the album consists of layered and manipulated sounds, Maria explains, "I started recording and playing around with a lot of sounds of water and wind. Besides that, I also recorded a freeway. So it all began to take shape from there."
For obvious reasons, it is impossible to promote the album in a live context, so Maria has already started to work on her forthcoming album: "My next record is based on a dream diary where I explore how I can translate characteristics of a dream into music. For example, in my dreams, people's characteristics are often merged. Like dreaming about a friend but with your mothers' eyes and the voice of your former school teacher. How can that be transformed into music?"
My tea is finished, the clouds are about to disappear, and I thank Maria for taking her time. Maybe the battle against nature that came to mind when I listened to Alto Aria for the first couple of times wasn't that wrong after all? As Maria mentioned, nature played a big part on the record, both as a source of inspiration and as an instrument – but perhaps the battle was within and not as extrovert as I imagined. With waves clashing and the wind still rustling in my head, I re-listen to the album with my new insights and enjoy the smell of my freshly picked lilacs.
In depth interview: ML Buch
16/09/20
A LETTER FROM EVIL HOUSE PARTY
07/08/20
End of the month : 8 tracks that deserve your attention
03/08/20
Knife Mix 009: Clarissa Connelly
10/07/20
End of the month: 10 tracks that deserve your attention
02/07/20
Knife explores : Jungle Fever
30/06/20
End of the month: 8 tracks that deserve your attention
04/06/20
Knife Introduces : Alto Aria
19/05/20
Track Premiere: ilinx, emotions & feelinx
08/05/20
End of the month: 8 tracks that deserve your attention
30/04/20
Knife Mix 008 : Main Phase
17/04/20
Track premiere: Splash Pattern, Sentinel
15/04/20
Track Premiere : Dirt Bike, Looney Tunes
10/04/20
End of the month: 7 Tracks that deserve your attention
01/04/20
Track premiere: When Saints Go Machine, Falling Is Only Bird's View A Second
27/03/20
Video Premiere: Bona Fide, Alchemist
26/03/20
Knife introduces: Devil
19/03/20
Video premiere : Peachlyfe, Culture Is Nature
04/03/20
END OF THE MONTH : 8 TRACKS THAT DESERVE YOUR ATTENTION
02/03/20
KNIFE EVENT : SPRING EQUINOX 2020 / Canceled
20/02/20
Track premiere : Tettix Hexer, The Great Vague
14/02/20
Track premiere(s): Whistler, Weaponize & Scanner
13/02/20
Track Premiere : Ingrate, 'Imp'
07/02/20
Video premiere : Piag3t, Turn Out Tense
04/02/20
END OF THE MONTH : 10 TRACKS THAT DESERVE YOUR ATTENTION
31/01/20
Knife Mix 007 : Perko
28/01/20
Video premiere: Bona Fide, Roses
24/01/20
The cave : MINI ESCO
16/01/20
Track premiere : Frederik Valentin & Loke Rahbek, Scarlett
09/01/20
END OF THE MONTH : 9 TRACKS THAT DESERVE YOUR ATTENTION
29/11/19
Track premiere : Flawless Victory, More than a dream
22/11/19
PHOTO ESSAY : ESCHO LIVE MIXTAPE
15/11/19
In-depth interview : Shygirl
12/11/19
KNIFE MIX 006 : THIRD WIFE LIVE FROM ROSKILDE
07/11/19
END OF THE MONTH : 9 tracks that deserve your attention
07/11/19
KNIFE MIX 005 : CORIN
24/10/19
Knife Recommends : Mana 'Seven Steps Behind'
11/10/19
Video premiere : Jackie Midnight & The Psycho Street, Texas Rock
04/10/19
END OF THE MONTH : 7 Tracks that deserve your attention
01/10/19
Knife recommends : HALYCON DAZE
27/09/19
THE CAVE : POPMIX
20/09/19
EP Premiere : KhalilH2OP, 'Isoscele'
13/09/19
Summer memories : Roskilde 2019
11/09/19
In-depth interview : First Flush
05/09/19
END OF THE MONTH : 8 tracks that deserve your attention
30/08/19
TRACK PREMIERE : DIRT BIKE, ROLL IN THE HAY
29/08/19
Knife Mix 004 : Malika Mahmoud
19/08/19
Festival Feature : Alice Topsøe-Jensen & Paloma Cuesta
14/08/19
Knife Mix 003 : Oqbqbo
23/07/19
In-depth interview : Jeuru
09/07/19
Video Premiere : Josiah Konder, Fall Away
28/06/19
Knife Mix 002 : Yuri
19/06/19
Track Premiere : Visitor Kane, Came To A Stop
13/06/19
Track Premiere : Popmix 'Teenage Club Fantasy'
11/06/19
Knife Recommends : Anders Vestergaard 'prime float//unitary perfect'
07/06/19
Track Premiere : Merdh Laleh, H4twag
29/05/19
In-depth interview : Scandinavian Star
23/05/19
Album interview : Erika de Casier, Essentials
17/05/19
Video premiere : Atusji, It's Bigger than Me
17/05/19
Video premiere : Grand Prix, Nightlife
08/05/19
TRACK PREMIERE : VIOLENCE OF THE FAUVE, ULTRAVIOLET
08/05/19
In-depth interview : Hjalte Ross
08/05/19
Knife Mix 001 : Yen Towers & Sa Rah
08/05/19
Photo Feature : Knife Mag at Pumpehuset
07/05/19
Video Premiere : Lowlife Scum
05/05/19
THE ROSKILDE SPECIAL
14/07/18