Video Premiere: Bona Fide, Alchemist
As previously featured on Knife Mag, we are excited once again to welcome Danish group Bona Fide, with a new video premiere as well as an in-depth conversation between frontwoman Sofia Luna and art director Olivia Danielsson, about the visual aesthetics behind the project.
The new single 'Alchemist' is taken off of their recently released debut album YIELD on Escho and, in the words of the group, deals with devotion, magic, and claustrophobia all at once.
OD: What is the idea behind the dresses? Did you intentionally make them for Bona Fide or how did it come about?
SL:I always really liked to dress up. When I started at the academy (the Royal Danish Academy of Fine Arts), I began thinking of this practice more as a way of building a character.
I'm really interested in the relations we have with things and objects. How they evoke feelings and how we communicate with them, especially through the intimate architecture of clothing.
I made these dresses as a kind of research - at the same time trying getting to know a special way of crafting clothes as well as knowing Bona better as a character. Could she be wearing this? What does that tell us about her? When is her time? Turns out she's a contemporary time traveler if that makes sense?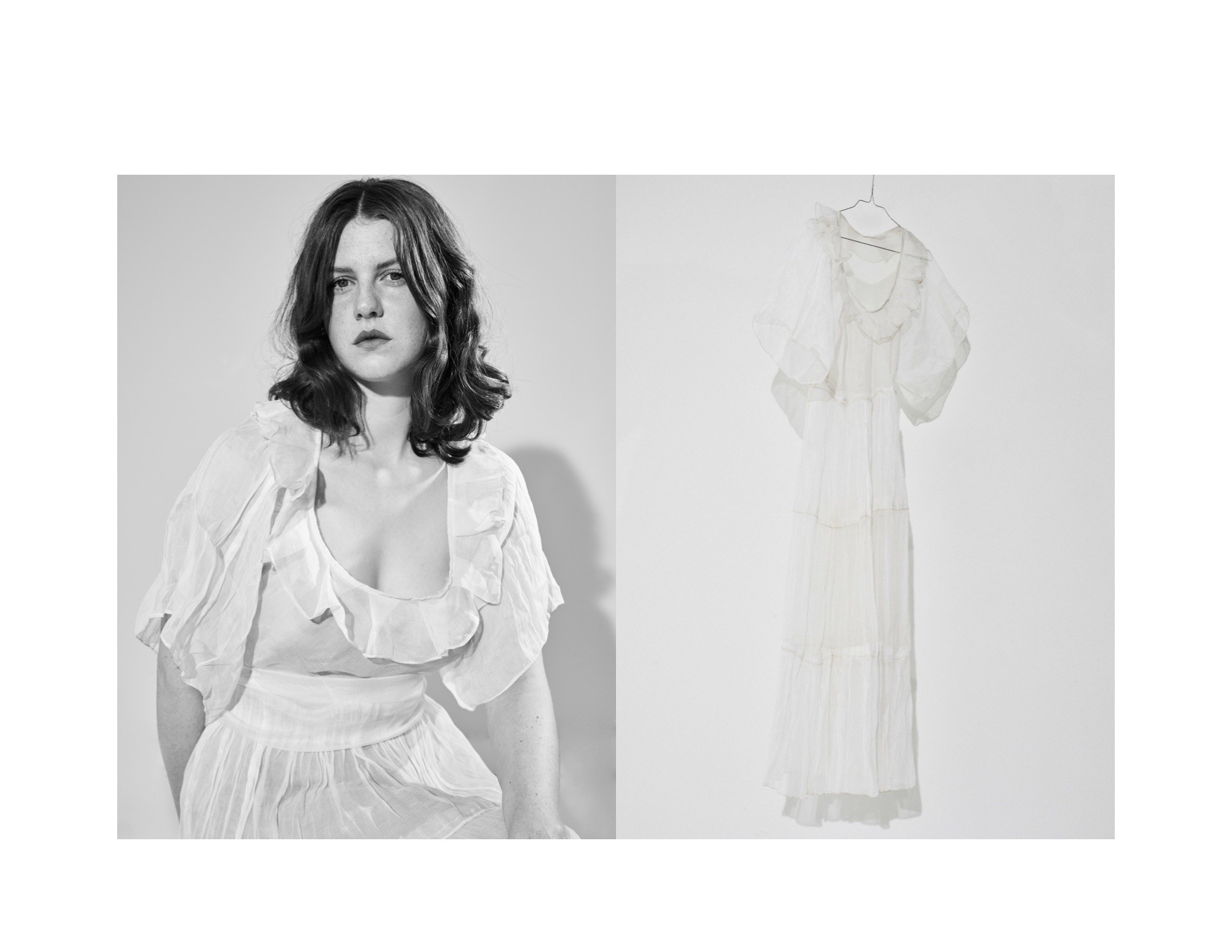 OD: It reminds me of the expression 'klæder skaber folk' - I guess that translates into 'clothes make the woman' in this case. So does Bona come alive through the dresses?
SL:Yes! Very much so. Or, she's always there, but her manifestation becomes much clearer wearing those dresses.
OD: Whenever I enter your apartment I always feel like opening the door to another world. You mentioned Bona as being a time traveler. Where does she go?
SL:It's all about creating a world. I usually describe our songs as rooms to enter. The dresses are another dimension of this. They are very moody, some of them are extremely comfortable, some are very structured. Bona is often on the prairie, riffle in hand - but then suddenly she's in some castle tower, where the curtains are fluttering, and the candle lights flicker. She's in a convent garden in 1104, and then she drives a car into the sunset. So she's very... versatile? There's always this certain feeling.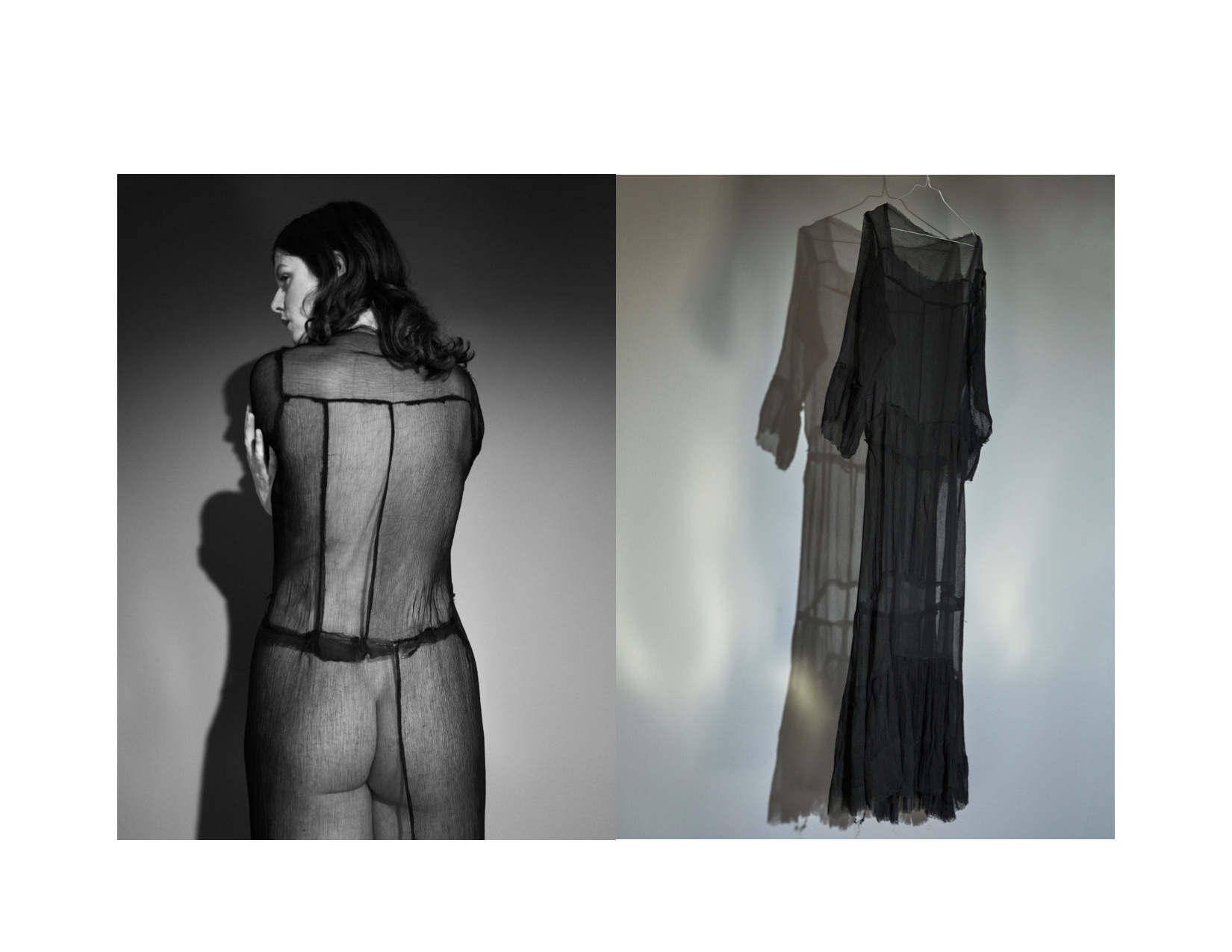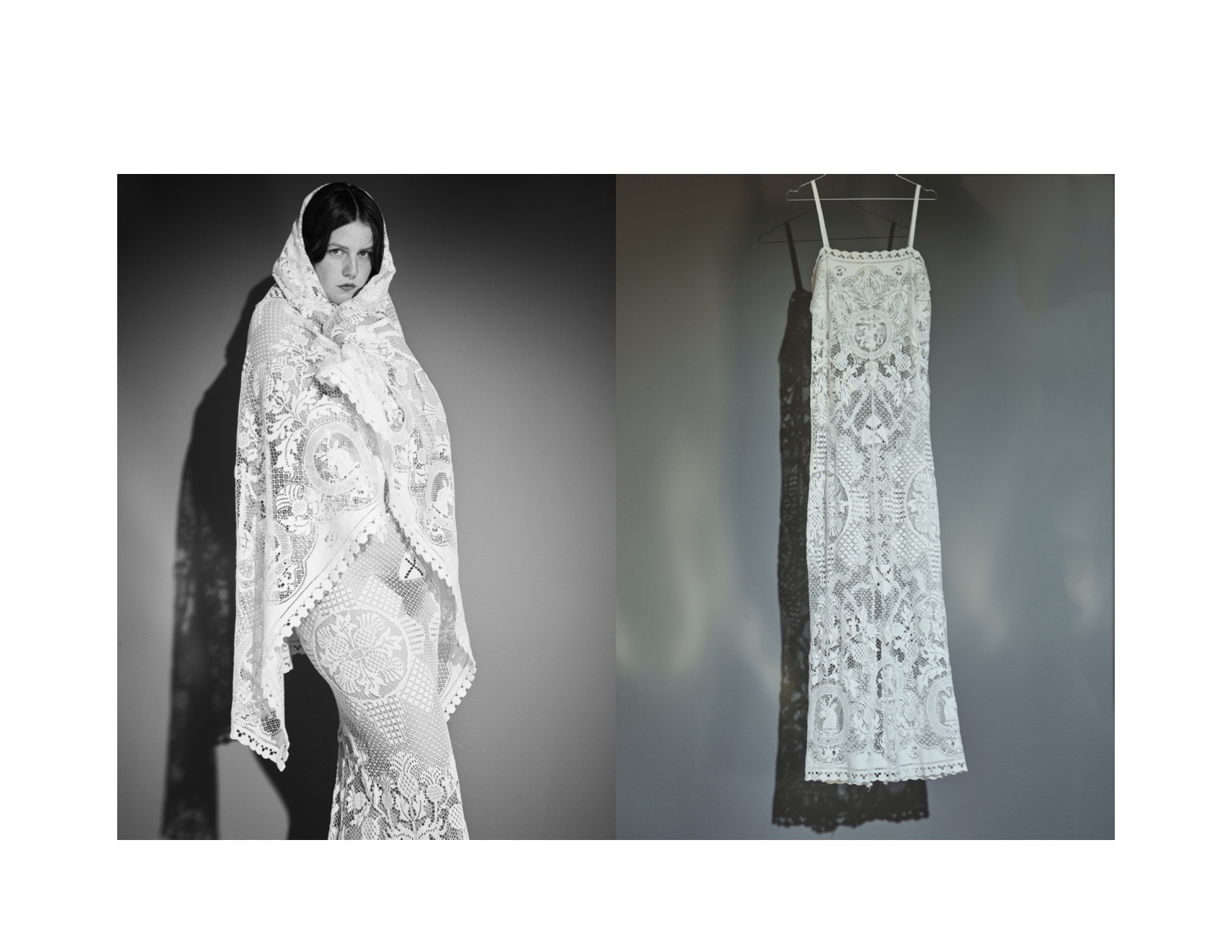 OD: Sometimes I imagine Bona sitting in an empty saloon wearing her dress and her boots. Are the dresses created or assigned to a certain room or song? Or is it more fluid? Can you elaborate on this?
SL: As I said earlier, I think of the songs as rooms, emotional associative rooms. Some of the places, the saloon, for example, are closely linked to certain songs. But it's all very fluid since they all create this one world where Bona lives. I imagine it as some kind of a loop where the mood creates the song, which creates the dress, etc.
SL:Absolutely. Everything is intertwined which I think makes it hard to separate the two of you. The way I see it, Bona Fida is a character that is a big part of you, but she's also floating in a parallel universe. How well do you know her?
SL:She teaches me a lot. She is this clear-cut version of my desires creating a space where my hurts are allowed to dwell. She knows how to handle anger. It is flaming and dignified with her. She's like a lens I use on my life, she is this framing that chops out all that's irrelevant, so you're able to focus. So In this sense, I know her quite well, and that's because I am her main building material. But at the same time, I think I'll never truly know her, because she, as you say, inhabits a different realm, and she tells me what she sees in there. And one of the ways she tells me that is through the dresses, they're like descriptions of her own world. And then the songs of course.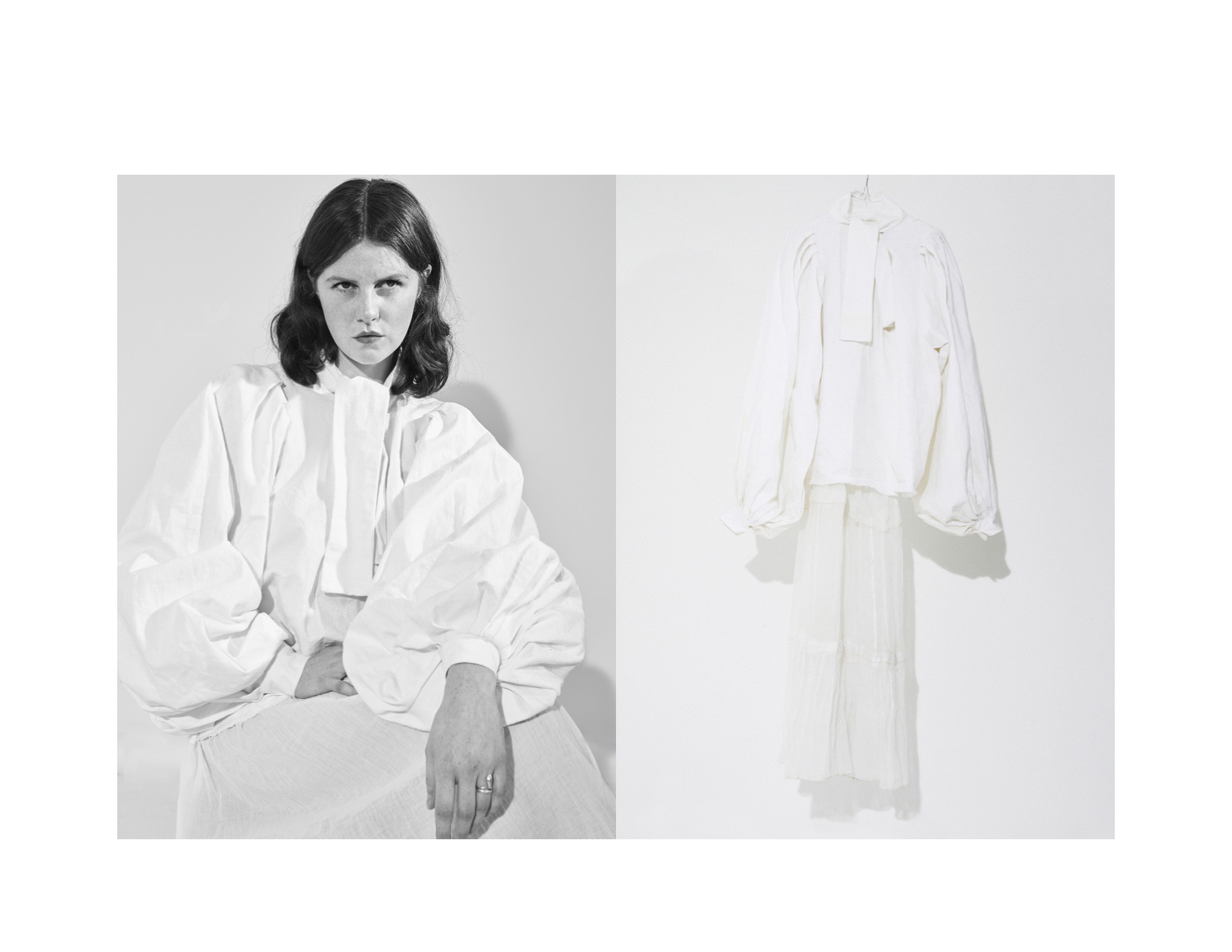 'Yield' is available now and can be ordered via Bandcamp. Remember to support your local artists and labels at this given time and stay safe out there.
In depth interview: ML Buch
16/09/20
A LETTER FROM EVIL HOUSE PARTY
07/08/20
End of the month : 8 tracks that deserve your attention
03/08/20
Knife Mix 009: Clarissa Connelly
10/07/20
End of the month: 10 tracks that deserve your attention
02/07/20
Knife explores : Jungle Fever
30/06/20
End of the month: 8 tracks that deserve your attention
04/06/20
Knife Introduces : Alto Aria
19/05/20
Track Premiere: ilinx, emotions & feelinx
08/05/20
End of the month: 8 tracks that deserve your attention
30/04/20
Knife Mix 008 : Main Phase
17/04/20
Track premiere: Splash Pattern, Sentinel
15/04/20
Track Premiere : Dirt Bike, Looney Tunes
10/04/20
End of the month: 7 Tracks that deserve your attention
01/04/20
Track premiere: When Saints Go Machine, Falling Is Only Bird's View A Second
27/03/20
Video Premiere: Bona Fide, Alchemist
26/03/20
Knife introduces: Devil
19/03/20
Video premiere : Peachlyfe, Culture Is Nature
04/03/20
END OF THE MONTH : 8 TRACKS THAT DESERVE YOUR ATTENTION
02/03/20
KNIFE EVENT : SPRING EQUINOX 2020 / Canceled
20/02/20
Track premiere : Tettix Hexer, The Great Vague
14/02/20
Track premiere(s): Whistler, Weaponize & Scanner
13/02/20
Track Premiere : Ingrate, 'Imp'
07/02/20
Video premiere : Piag3t, Turn Out Tense
04/02/20
END OF THE MONTH : 10 TRACKS THAT DESERVE YOUR ATTENTION
31/01/20
Knife Mix 007 : Perko
28/01/20
Video premiere: Bona Fide, Roses
24/01/20
The cave : MINI ESCO
16/01/20
Track premiere : Frederik Valentin & Loke Rahbek, Scarlett
09/01/20
END OF THE MONTH : 9 TRACKS THAT DESERVE YOUR ATTENTION
29/11/19
Track premiere : Flawless Victory, More than a dream
22/11/19
PHOTO ESSAY : ESCHO LIVE MIXTAPE
15/11/19
In-depth interview : Shygirl
12/11/19
KNIFE MIX 006 : THIRD WIFE LIVE FROM ROSKILDE
07/11/19
END OF THE MONTH : 9 tracks that deserve your attention
07/11/19
KNIFE MIX 005 : CORIN
24/10/19
Knife Recommends : Mana 'Seven Steps Behind'
11/10/19
Video premiere : Jackie Midnight & The Psycho Street, Texas Rock
04/10/19
END OF THE MONTH : 7 Tracks that deserve your attention
01/10/19
Knife recommends : HALYCON DAZE
27/09/19
THE CAVE : POPMIX
20/09/19
EP Premiere : KhalilH2OP, 'Isoscele'
13/09/19
Summer memories : Roskilde 2019
11/09/19
In-depth interview : First Flush
05/09/19
END OF THE MONTH : 8 tracks that deserve your attention
30/08/19
TRACK PREMIERE : DIRT BIKE, ROLL IN THE HAY
29/08/19
Knife Mix 004 : Malika Mahmoud
19/08/19
Festival Feature : Alice Topsøe-Jensen & Paloma Cuesta
14/08/19
Knife Mix 003 : Oqbqbo
23/07/19
In-depth interview : Jeuru
09/07/19
Video Premiere : Josiah Konder, Fall Away
28/06/19
Knife Mix 002 : Yuri
19/06/19
Track Premiere : Visitor Kane, Came To A Stop
13/06/19
Track Premiere : Popmix 'Teenage Club Fantasy'
11/06/19
Knife Recommends : Anders Vestergaard 'prime float//unitary perfect'
07/06/19
Track Premiere : Merdh Laleh, H4twag
29/05/19
In-depth interview : Scandinavian Star
23/05/19
Album interview : Erika de Casier, Essentials
17/05/19
Video premiere : Atusji, It's Bigger than Me
17/05/19
Video premiere : Grand Prix, Nightlife
08/05/19
TRACK PREMIERE : VIOLENCE OF THE FAUVE, ULTRAVIOLET
08/05/19
In-depth interview : Hjalte Ross
08/05/19
Knife Mix 001 : Yen Towers & Sa Rah
08/05/19
Photo Feature : Knife Mag at Pumpehuset
07/05/19
Video Premiere : Lowlife Scum
05/05/19
THE ROSKILDE SPECIAL
14/07/18